Improve Your Life
Designed to help you question the absurdity of existence and not take things so seriously.
Shop Now
Stop Searching for a Secret Meaning
Start embracing all the weird, sad, and funny stuff that makes life beautiful.
Shop Now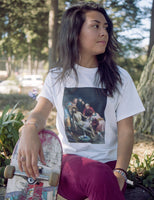 Playful Nihilism
It's best to approach the dark stuff in life lightly. Don't just stare into the void, smile at it.
Shop now